Jacque Gray, PhD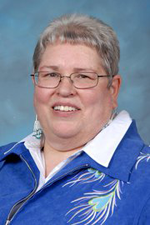 Dr. Jacqueline Gray is the principal investigator of the National Indigenous Elder Justice Initiative at the Center for Rural Health at the University of North Dakota (UND) School of Medicine & Health Sciences. She is also a research associate professor emerita of the Department of Population Health at UND.
Jacque is from Oklahoma and of Choctaw and Cherokee descent. She has worked with tribes throughout Indian Country for 40 years in the areas of health, education, counseling, and program development. She also has experience in policy work and advocacy through testimony in Congress on suicide among American Indian youth, funding for Indian Health Service, addressing Elder abuse in Indian Country, serving on the Health and Human Services Secretary's Advisory Committee for Interdisciplinary Community-Based Linkages, and other health disparity related issues. Jacque worked in medical research at the Oklahoma Health Sciences Center in Oklahoma City and at the Norman Regional Hospital. For more than eight years, she provided counseling, assessment, and program development services through the Creek County Health Department in Oklahoma.
Jacque came to North Dakota in 1999 as a visiting professor in the UND Department of Counseling, and in 2001 she became a post-doctoral fellow at the Grand Forks Human Nutrition Research Center of the U.S. Department of Agriculture Agricultural Research Service. She joined CRH in 2004.
Jacque has research experience in the areas of health and mental health, including suicide prevention, Elder abuse, rural veteran health services, spirituality and health, psychometrics, and wellness and nutrition in adolescents. Her research with American Indians includes Elder abuse, health, depression, anxiety, veteran's health services, spirituality, suicide, career counseling, and nutrition. She developed a rural crisis intervention program and an adolescent suicide prevention program in Oklahoma that have been adopted across the state and began the first viable divorced parent education program in Oklahoma. She is licensed as a professional counselor in North Dakota and was part of a rural health training grant during her psychology internship at the University of Wyoming that put multidisciplinary teams in rural/frontier settings around the state.
Jacque is a member of the American Counseling Association, the American Orthopsychiatric Association, the Native Research Network, the Society of Indian Psychologists (SIP), American Society on Aging, and a fellow of the American Psychological Association (APA). She served as SIP president from 2011-2013. She served as president of the APA Division 45: Society for the Psychological Study of Culture, Ethnicity, and Race (2016), chair of Psychologists in Indian Country (2011-2014), a section of APA Division 18: Psychologists in Public Service, and was secretary of section six: Native Alaskan, American Indian, and Indigenous Women of the APA Division 35: Psychology of Women (2014-2016). She is a member of the Alzheimer's Association Oversight Committee for Research and Cultural Diversity and is part of the North Dakota Suicide Prevention Coalition. She is also a consultant for the Substance Abuse and Mental Health Services Administration Disaster Technical Assistance Center.
She was elected to the APA Board for the Advancement of Psychology in the Public Interest (2017-2019) and Committee on Rural Health (2012-2014) and was appointed by the APA Board of Directors to the National Steering Committee on Health Disparities. She currently serves on the Committee on Division/APA Relations (2021-2023). Jacque received the Excellence in Training Award from the Native Research Network in 2012 and received a Presidential Citation from APA in 2014. She has traveled to New Zealand, where she participated in work on Maori and Indigenous suicide prevention with the University of Otago and Healing Our Spirits Worldwide.
Jacque earned a bachelor of science degree in laboratory technology from the University of Oklahoma. Her master of education degree is in guidance and counseling psychology from the University of Oklahoma, and her doctorate is in applied behavioral studies with a specialty in counseling psychology from Oklahoma State University.